Embedded GUI Solutions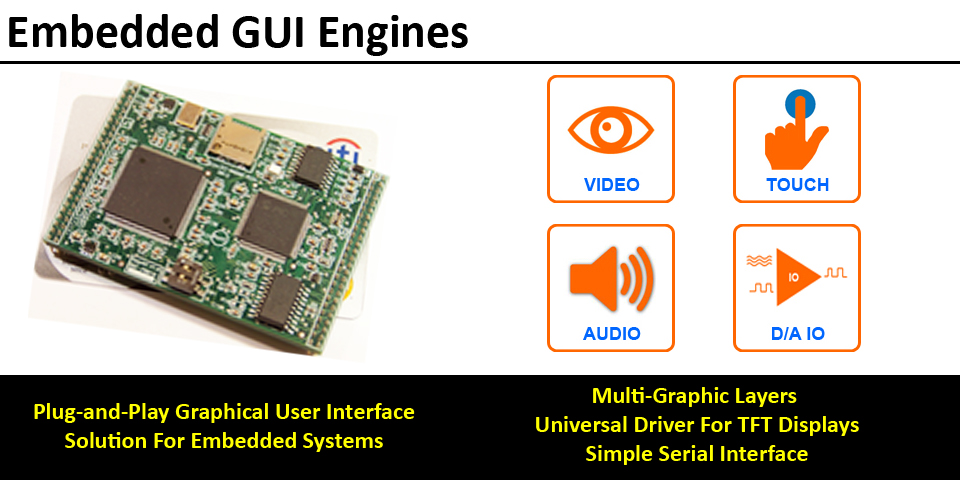 DigiZap Embedded GUI Solutions enable manufacturers and product designers to easily achieve smart and graphic-rich user interface on a new or existing microcontroller based products. The core technology includes DigiZap's Serial-Enabled Graphic Engine (Sege) , Embedded Touchscreen Modules (eTSM). and window's based embedded GUI design software (uiLab).
DigiZap Embedded GUI Solutions are perfect for the embedded market such as industrial, medical, automation, test & measurement and consumer products.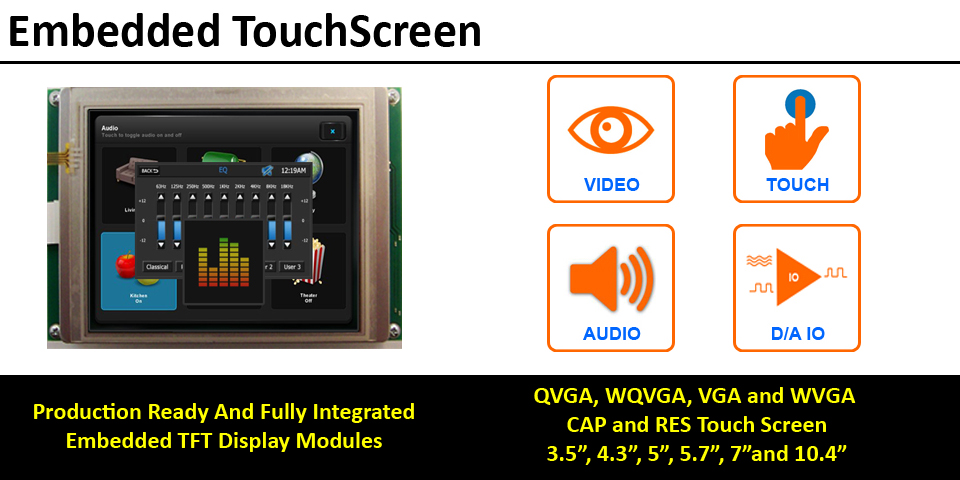 DigiZap Embedded GUI solutions help partition the GUI development from the rest of the application. It is well known that as GUI project grow, GUI processes burden the host controller by as much of 60% or more. Thus, the developer is forced to use more powerful and costly processor to run the application and the GUI. By partitioning the GUI, the developer still able to use a smaller and less expensive host processor (8-bit) to run the application.
Two simple steps are required to fully design your Embedded GUI:
STEP1: Design your GUI screens visually using DigiZap Visual GUI Builder "uiLab", compile and save to the Sege flash memory.
STEP2: Your microcontroller (Host) sends serial commands to control, update and response to the user interface.
ModBus Modules

The Modbus industrial protocol was developed in 1979 to make communication possible between automation devices. Originally implemented as an application-level protocol intended to transfer data over a serial layer, the protocol has expanded to include implementations over serial (RS232, RS485/RS422), TCP/IP, and the user datagram protocol (UDP). Today, it is a common protocol used by countless devices for simple, reliable, and efficient communication across a variety of modern networks.
DigZap ModBus Modules are low cost yet very powerful modules that can be used for any application requires remote control and monitoring capability. Simple microcontroller board can be used as a bridge between our user interface touch screens and the ModBus modules, forming robust and flexible control and monitoring architecture that can be used across wide range of industrial applications.
Below are the main features of  DigiZap ModBus Modules:
Low Cost
Wide selection of modules
Serial RS422 (4-wire RS485) or Ethernet TCP/IP interface
Multiple mounting options
Multiple network options
Powerful 32-bit microcontroller on board
Single 24V DC power input
Pluggable screw terminals
Dual RJ45 plugs for RS422 network
Network Configurations
Embedded Control and Monitoring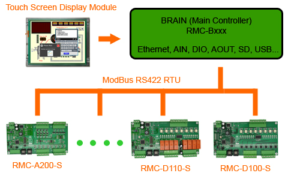 Host controller board is used to bridge the user interface touch screen to the modbus modules.
ModBus RTU Serial RS422 (4-wire RS485)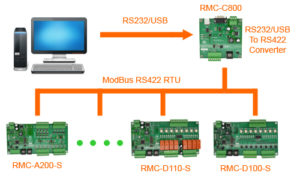 RMC-C800 network interface module is used to convert RS232 or USB to RS422 bus.
ModBus RTU Ethernet TCP/IP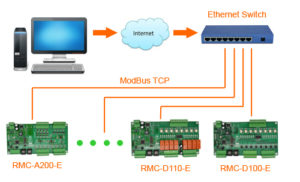 In this configuration, all modules are set with ModBus TCP option. An Ethernet switch or router is used to communicate with each module via a network or the internet.
ModBus RTU Ethernet TCP/IP to Serial RS422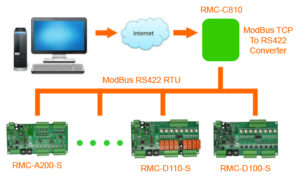 In this configuration, RMC-C810 network module is used to convert the master ModBus TCP to Serial RS422. This is the recommended configuration for Ethernet network.